Frankenstein Girls Will Seem Strangely Sexy


Info
February 22, 2000
2000
Elektra Records
55:16
Chronology
Tight
Frankenstein Girls Will Seem Strangely Sexy
Alienating Our Audience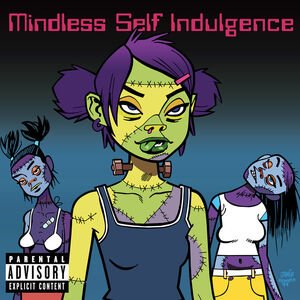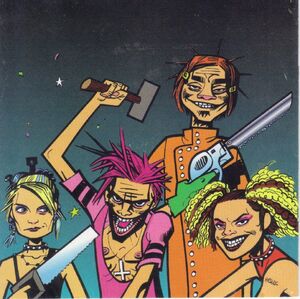 Frankenstein Girls Will Seem Strangely Sexy (often abbreviated FGWSSS or just Frankenstein Girls) is the second studio album by Mindless Self Indulgence. The album is the follow-up to the album Tight. The original album name, according to the few promo discs released, is Frankenstein Girls That Seem Strangely Sexy.
It is the last studio album to feature Vanessa YT as their bass player, and the last album by them to feature a message from their answering machine ("M", in which the caller accuses them of homosexuality) as one of the tracks.
The track listing on the back cover has all the vowels replaced with asterisks, even in those words that wouldn't generally be considered offensive, as a form of protest against censorship. The tracks of this album are also in alphabetical order. Promo/Advance copies of the album featured slightly different "skit" tracks from those featured on the final version.
The cover of the album was drawn by Jamie Hewlett, the artist known for Tank Girl, and more recently, Gorillaz. Hewlett offered to make a music video for a song on the album but was rejected by Elektra.
Jimmy Urine's input on the album cover:
In 1998 Jamie Hewlett's name was synonymous with "Tank Girl", the influential comic book but not yet with Gorillaz so it should not be such a surprise as it was to me that our record label said "who the fuck is Jamie Hewlett?" We wanted him as the artist for our 2000 release "Frankenstein Girls Will Seem Strangely Sexy". We had to track him down ourselves because the label did not even begin to know how to find him. When we finally got him on board we just said draw whatever you want. He sent me a few preliminary sketches that would be the cover of the record. On these sketches were written tons of little notes. Such as "this will be green not grey", "I will tighten this up", "more shading over here" and one small note on the bottom that said "The Frankenstein girls will seem strangely sexy". I thought that was the greatest thing I have ever heard. It was super absurdist. We asked him if we could name our record after that note and Jamie said "You can if you want. You guys are nuts."
"20YEARZ AGO SOME IDIOTS GAVE US TOO MUCH MONEY SO WE MADE THE DUMBEST MOST IDIOTIC INSANE FUCKED UP OFFENSIVE RIDICULOUS RECORD EVER IMAGINABLE WE DID DA EXACT OPPOSITE OF WHAT YOU WERE SUPPOSED TO ON FEB 22 2000 WE BROKE EVERYONEZ MIND 20 YEARS LATER ITS STILL INSANE PIECEOFSHIT"
Track listing
Backmask

Bitches

Boomin'

Clarissa

Cocaine and Toupees

Dicks Are For My Friends

F

Futures

Golden I

Harry Truman

Holy Shit

I Hate Jimmy Page

I'm Your Problem Now

J

Keepin' Up With All The Kids

Kick the Bucket

Kill The Rock

Last Time I Tried to Rock Your World

London Bridge

M

Masturbates

Planet of the Apes

Played

Ready for Love

Royally Fucked

Seven Eleven

Step Up, Ghetto Blaster

Whipstickagostop

Z