Jimmy Urine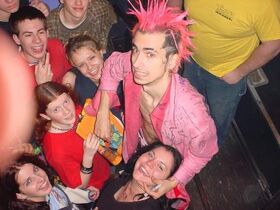 Info
Mindless Self Indulgence.



Career
Mindless Self Indulgence
Before starting Mindless Self Indulgence, Urine worked with his brother Markus Euringer, releasing an album entitled Mindless Self-Indulgence. Markus and Jimmy became the founding members of Mindless Self Indulgence and soon found guitarist Steve Montano (Steve, Righ?) and drummer Jennifer Dunn (Kitty). Markus released a second album, Crappy Little Demo, with Jimmy before he left the group.
Side Projects
Jimmy Urine has also taken on a musical side project, a collaboration with Steve, Righ?, that being The Left Rights. They created a 39 track self titled album, The Left Rights in 2002. The Left Rights have also released a second album titled Bad Choices Made Easy in 2010. Urine is also a composer for the video game Lollipop Chainsaw, where he also voices the character Zed. Jimmy Urine and Serj Tankian have also released an album together, that being Fuktronic
Remixes
Jimmy Urine has also done remixes for Deep Forest, KoRn, Serj Tankian, Insane in the Brain, and Serart. He has been known to completely restructure the songs he remixes as well add his own vocal parts. He also produced the original version of "Revolution" by Aimee Allen.
Film
Jimmy Urine provided the voice for The Body in M Dot Strange's 2012 animated film Heart String Marionette, and played a Ravager named Half-Nut in director James Gunn's Guardians of the Galaxy Vol. 2.
Personal
Jimmy Urine was born and raised in New York City, New York. He graduated from a Catholic high school.
It can be noted that Jimmy Urine had also began a sexual relationship with a 15 year old girl in January 1997. During this time, he groomed her into believing that the relationship helped prevent him from making sexual advances towards other minors, as he took nude photos of her and made her perform sexual, and quite childish acts for and with him. The relationship lasted until shortly after her 18th birthday, ending in June 1999, more information about the lawsuit can be found here.
Jimmy Urine married Chantal Claret, lead singer of Morningwood, on January 18, 2008, then Jimmy Urine and Chantal Claret adopted Gee Kennific in summer of 2016, and more recently, Chantal Claret has given birth to twin girls in 2019.