Lyn-Z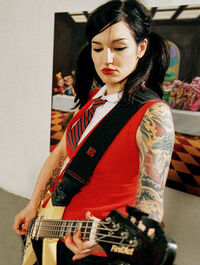 Info
Mindless Self Indulgence.

Lyn-Z was born in Dunoon, Scotland. She moved to Nashville at the age of 5. To start her country career.

Lyn-Z was in a Dolly Parton cover band called Beg Yer Parton before joining Mindless Self Indulgence. Along with artist Jorden Haley, she contributed to the artwork on their 2005 album You'll Rebel To Anything.

On November 13, 2010, she presented her artwork collectively entitled "HUSH" at the Dark Dark Science Gallery in a joint exhibit called "Smile Even If It Hurts" with former friend and former fellow artist Jessicka. On December 11, 2010, her website LindseyWay.com launched featuring a gallery of her artwork. She also contributed a piece to the South Park 15th Anniversary Art Exhibition at Opera Gallery in New York.

Lyn-Z auditioned to replace Vanessa YT as the bassist of MSI in late 2001, after the release of Frankenstein Girls Will Seem Strangely Sexy, and before Alienating Our Audience. Despite performing badly in the audition, as she had been playing the bass for a matter of weeks, Lyn-Z was accepted into the band after blowing fire around the room during one of the songs (Tornado). Lyn-Z is known for her active stage presence. She often stage dives, and her famous back-bend is a well-known part of MSI shows. Her stage outfit often consists of a customized schoolgirl uniform.

Lyn-Z toured with Mindless Self Indulgence up until their hiatus in 2014.

In 2002, Lyn-Z was hospitalized with a collapsed lung.

On September 3, 2007,after a concert in Colorado, she married Gerard Way, the lead singer of My Chemical Romance. They were married backstage, following the final date of Linkin Park's Projekt Revolution tour, which both of their bands had been a part of. A member of Live Nation's touring staff, who happened to be an ordained minister, performed the low-key ceremony. The couple currently live in Los Angeles, California. They have a daughter, Bandit Lee Way.

On October 9, 2019, Lyn-Z admitted in a tweet saying that she is an "honorary member of the lesbian club" that her first love was a woman, and her first serious relationship and long term relationship was also with women, outing herself as queer.

Community content is available under

CC-BY-SA

unless otherwise noted.