Jurassic World: Dominion Dominates Fandom Wikis - The Loop
Play Sound
Steve, Righ?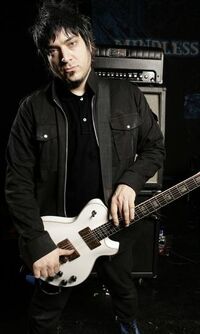 Info
Mindless Self Indulgence.
Career
Montano began using the name Steve, Righ? after someone approached him at a show and said "You're Steve, righ?". He first met Jimmy Urine and was featured on Markus and Jimmy's 1995 project, Mindless Self-Indulgence, recording guitar for "Bed of Roses", he also was featured in a side project with Jimmy and himself, the project being "The Left Rights", producing short songs which make no sense at all on ridiculously long albums with usually over 30 songs, both those albums being: "The Left Rights", and "Bad Choices Made Easy". It is also worth mentioning he has co-written a handful of songs with Jimmy Urine, including "Dicks Are for My Friends" and "Seven-Eleven". He wrote "Whipstickagostop" and "Z", the last two songs on Mindless Self Indulgence's second studio album, "Frankenstein Girls Will Seem Strangely Sexy" (on both of which he performs the lead vocals), and the (originally hidden in the last track on "Tight", but was released as a separate track on "Tighter") bonus track "JX-47" from the album "Tight", in which he performs lead vocals and guitar. Under the name Dr. Death Defying, Montano lent vocals to the tracks "Look Alive, Sunshine", "Na Na Na", "Jet-Star and the Kobra Kid/Traffic Report", and "Goodnite, Dr. Death" from My Chemical Romance's fourth studio album Danger Days: The True Lives of the Fabulous Killjoys.
Personal
Montano's wife Lucinda, a makeup artist and beautician from Wolverhampton, gave birth to their daughter Violet Montano in May 2009. He has had two surgeries on his hip, the first one unsuccessful. Rob Kleiner of the band Tub Ring filled in for Montano briefly while he was hospitalized from late 2004 to early 2005 due to a hip injury.